Events that impact markets, stocks, IPOs, commodities, forex from regional to international – We've got it all covered.
Your go-to page for detailed info on US-listed companies – from their origin to latest updates to contact information.
Seasoned investors or newbie traders, our financial education corner has something for everyone.
Most talked-about topics globally, and why they matter.
What is VeChainThor & VET crypto's price prediction?
Ankit is a law graduate. He holds an interest in public policy, corporate ethics, development economics, macro-economic policies, and sustainable development….
Sundeep is a senior editor with years of experience across print, broadcast, digital and social media. He's written and edited for publications in the UK, the UAE, the US, Denmark, Canada and India….
Amid a substantial drop in prices of major cryptos including Bitcoin, Ether and BNB over the past one week, the big question is, which crypto will explode in 2022?
The downward pressure on most cryptocurrencies seems to have stayed longer than anticipated. Bitcoin is trading well under US$40,000 as of writing, and the aggregate market cap of all cryptos has declined below US$1.7 trillion. Is there a crypto that may still explode this year amid such adverse sentiments?
Let's look into VeChain's VET token.
VeChainThor is the key product of this project. It uses the statement "real world economic problems" to position itself in a different league of blockchain technology.
It uses the proof-of-authority consensus for the validation of transactions. The network claims it would introduce changes to this consensus mechanism to stop any node from manipulating the validation process.
The network, unlike Ethereum that has a single native token (Ether), has two tokens to serve the functions of fee payment and validation.
Also read: Axie Infinity: What is AXS metaverse crypto's price prediction?
VET is one of the two tokens of the VeChain project. The second token, VTHO, is generated by the holders of VET. While VTHO is used to pay the fee inside VeChainThor, VET is used for transaction validation.
Similar to BTC and Ether, VET had lost value over the past 24 hours as of writing. With a market cap of over US$2.9 billion, the VET crypto ranks among the top 50 cryptocurrencies on the CoinMarketCap list. VET was trading at nearly US$0.045 as of writing.
Also read: 5 cryptos under one cent to watch in 2022
The VET token has demonstrated volatility in the past. In mid-April last year, the price soared over US$0.25, but dropped to nearly US$0.05 by mid-August. In 2022 so far, VET crypto's price has remained subdued.
That said, the price may rise if VeChainThor is used by traditional businesses to build blockchain-powered solutions. If the crypto world can pull off a comeback from the ongoing rout and VeChainThor finds more users for its network, the price may go to the US$0.25 level again by the end of 2022.
Also read: 10 best penny cryptos to watch in 2022
VET, if it can demonstrate its superiority over the other high market cap blockchain networks of Ethereum, Solana and Cardano, may be able to enter a double-digit price trajectory by 2025.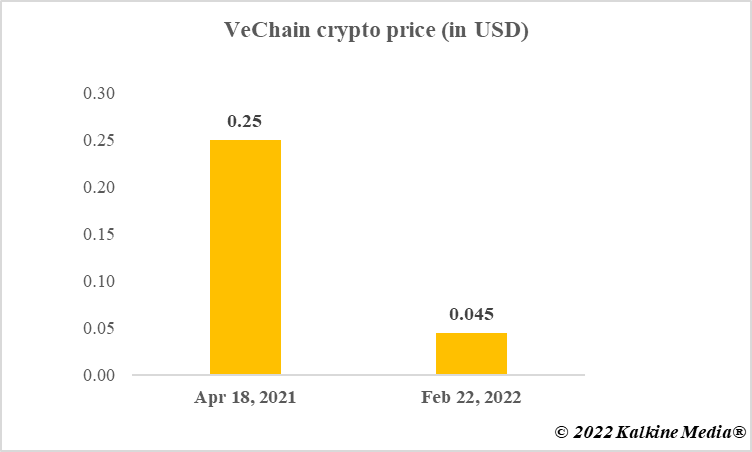 Data provided by CoinMarketCap.com
Also read: Bitcoin price prediction 2025: Can Web 3.0 catapult BTC to $300,000?
The blockchain space is still evolving, with various blockchain networks claiming superiority. The price of the VET token would rely on how the VeChainThor network performs in the long run.
Copyright © 2022 Kalkine Media LLC. All Rights Reserved.